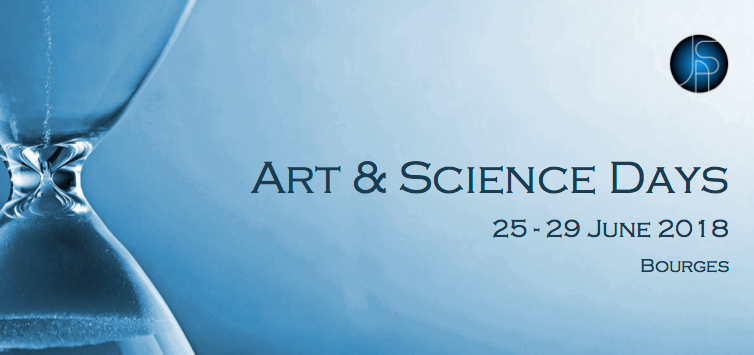 Before the Time, an audiovisual composition by PureH,
at the Art & Science Days Bourges at Médiathèque de Bourges
Bourges, France
Musinfo organizes every year the Art & Science Days, giving different disciplines the opportunity to cross and interact during an annual meeting around a theme explored through a scientific and a musical perspective. The meeting is built around concerts, conferences, installations, exhibitions and workshops. It has a dual objective: on the one hand, to support the work of researchers, composers and musicians, and on the other hand, to offer the public various events.
We dedicate this 2018 edition of the Art & Science Days to sound and visual / scientific and imaginary time. "What then is time?" wondered Augustine of Hippo. "If no one asks me, I know what it is. If I wish to explain it to him who asks, I do not know." The present, the past, the future… Basic material for the composer, an object of study for the researcher… Everyone, in their way, watches time pass by, measures it, observes it, uses it. Yet the question remains: what then is time?

La prémonition de l'énergie des spores et de la fragilité des géants crée une sensation de faiblesse et une crainte d'être piégé dans des systèmes à plusieurs niveaux. Le fil des évènements manque presque le temps pour donner une impression. La connexion des particules ne se trouve pas interrompue par le danger des solitaires. Quelle est la place de l'homme dans cette séquence caractérisée par la destruction de l'environnement, l'ingénierie génétique et la perception de la vie comme une très courte période ?
Simon Šerc (né 1972) est un artiste sonore et vidéo, ingénieur d'enregistrement, interprète et créateur d'un label. Il a étudié la philosophie et l'informatique, et est actif dans le domaine de musique expérimental depuis 1990. Il a participé à de nombreux festivals avec ses projets audiovisuels : Sound Thought (Ecosse), New Texture (Corée du Sud), Gravity Assist (Etats-Unis.), Black & White (Portugal), Kiblix (Slovénie), Lieblichkeit und Sexualität (Autriche), Art & Music (Croatie), Expo 2000 (Allemagne), Instants Vidéo Numériques et Poétiques (France), Sguardi Sonori (Italie), etc. En tant qu'artiste sonore et vidéo, il a collaboré avec d'autres artistes/collectivités de divers domaines artistiques et il participe aussi activement dans différents projets musicaux (PureH, Cadlag, KSVLKSV etc.) Il est fondateur du label de production Pharmafabrik qui, selon les critiques musicaux, enrichit remarquablement la diversité sonore slovène avec sa méthodologie consistante et clairement définie de l'exploration sonore.
Martina Testen est née en 1976 à Postojna, Slovénie. Elle travaille dans les domaines de la communication visuelle et sonore, des paysages sonores (enregistrements de terrain) et de la photographie numérique. Récemment Martina a participé au festival Numérique et Poétique en France, au Videofestival Natures en Slovénie et a présenté sa sculpture sonore au World Listening Project. Elle vit à Nova Gorica.
LINK: www.musinfo.fr