Biodukt in The 25 Best Spring Albums of All Time:
I love this quote from Jeremy's introduction above: "Sometimes these albums have been inspired by the season; other times, the music reminds us of this time of year." For me, Biodukt, released the day the world shut down (March 12, 2020) will forever be forever with the pandemic, but in a good way. The album speaks of the forest and its natural rhythms over the course of a day, from sunrise to sunset, a reminder of seasons and cycles both physical and metaphorical: a solace and an encouragement, wrapped up in a virtual spring. (Richard Allen)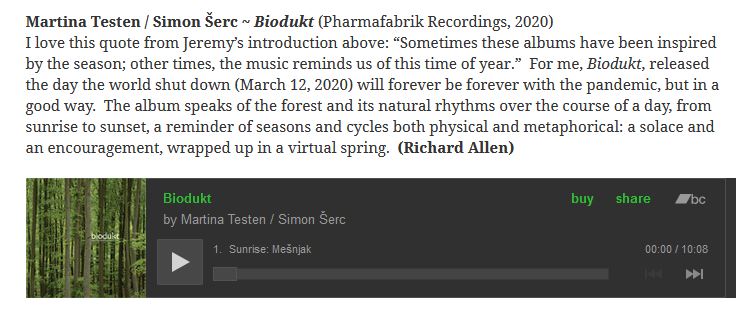 The premise is simple: as with previous articles, these are the records that make us think of Spring. This is optimistic music that looks forward rather than back. It's no coincidence that Easter, Holi and May Day fall within this time frame. Think growth, renewal, and transition. Remember the abundant sounds of nature: birds calling, leaves on trees, lambs in fields.
LINK: https://acloserlisten.com/2023/04/03/the-25-best-spring-albums-of-all-time